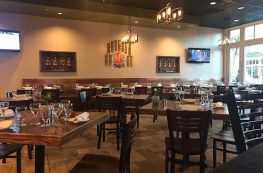 Ambrosia India Bistro
"Nothing Less Than Our Best"
565 Abrego St.
Monterey, CA
831-641-0610
My brother and I went to Monterey Cannery Row for a visit.  We often had conversations about Indian food.  I never had Indian food because I thought they were too spicy for me.  We strolled down Cannery row where we spotted an Indian restaurant and decided to dine there.   It was the "Best" Indian food restaurant for mild and spicy Indian cuisine. They cater to your dining needs whether you are a vegan or not, and whether you like your dish mild or spicy. The have crab cakes, seafood, chicken, lamb, pre-fixed platters as well as soup and/or salad.  If you have catering needs you can give them a call.  You can also make online reservations as well as order To-Go.  We had a variety of Naan, Bhindi Masala, and Mattar Paneer. Food and Service were excellent!!!
Their Masala tea was to die for. It was freshly made where the aromatic spices permeates the air. As a result the next day I went to my local Indian market to buy the Masala tea with tea leaves (not tea bags) and spices. If you happen to be in Monterey Cannery Row, my brother and I recommend Ambrosia India Bistro.