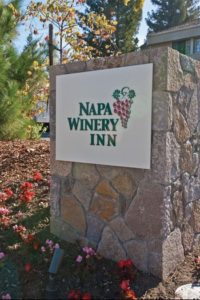 Need a place to unwind, PET FRIENDLY, VIP treatment, hot breakfast, afternoon wine and cheese, clean, nice rooms, plus choice of PROMOTIONS packages in Napa, California?  Be sure to stay at Napa Winery Inn.  Shane Greenan (General Manager) and his staff were so attentive to our needs we felt so welcome and at home…definitely "Excellent Customer Service".  I've been to Napa many times without my pet before and I'm so happy we chose to stay here.  They took their time to pet and say "Hi" to Daisy, my pet dog, gave her treats we didn't expect. Daisy, my sister and I felt we had found the best place to stay in Napa. Yes, we love to shop too where the hotel was so close to Premium Outlets.  Oh and grapevines around the hotel's fences. I started growing table grapes "Flame" and "Thompson" varieties two months ago where I was so excited to touch and see closely grown grape vines next to the outdoor sitting area.
Catch the Napa Valley Wine train 2.67 miles from here for wine tasting and other local places or you can drive.  We chose "Dinner on Us" PROMOTIONS package where we chose the dinner at Fume Bistro.  My sister had Skuna Bay Salmon Fillet for dinner and Citrus Salad.  I had Haricot Vert and Beet salad with Grilled Fume Pork Chop (Daisy, my pet dog and I would share the delicious pork chop later).  Dinner was excellent we can't wait to go back.
Schedule your next "Corporate meetings", wedding or social events here and experience wonderful Napa, California.  We will definitely stay at Napa Winery Inn again!